Washroom Sanitisers
Finish off the Washroom germs with our sanitisers
There's more to washroom cleanliness than simply cleaning visible dirt. Sometimes, the most dangerous grime is the grime that can't be seen. Microbes and bacteria are a constant threat to both your washroom's atmosphere and its very safety as a space for your employees and customers.
That's why Alsco's sanitisers are designed to eradicate germs – for good. Discrete, long-lasting and automatic, they'll be the unnoticed guardians of your washrooms. Say goodbye to germs for good and keep your spaces clean and healthy with Alsco's Washroom Sanitisers.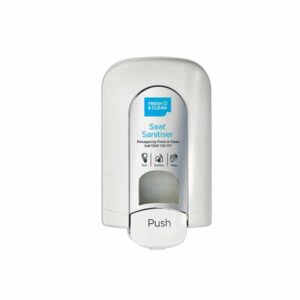 Seat Sanitiser
Your toilets are the most personal part of your washroom experience. They also see the most traffic. This means grime and, worse - harmful germs and bacteria - build up in a matter of hours. Alsco's seat sanitizers leave your toilet seats spotless in an instant – before and after use.
Sleek, discrete, wall-mounted dispensers
Fast-drying liquid eradicates germs before and after use
Anti-microbial buttons keep your washroom 100% hygienic
Easily refillable packets cost less and last longer
Our seat sanitisers keep your washroom clean. More importantly, they contribute to a healthy, hygienic and happy environment for your customers and employees. Worried about refilling, maintenance and running costs? Don't sweat it. With Alsco's managed rental service, your seat sanitisers will be checked, refilled and replaced regularly – at no extra cost.
WC or Urinal Digital Sanitiser
When a toilet or urinal flushes, harmful bacteria can become airborne – posing a serious threat to anyone using your washrooms. Our WC/Urinal Digital Sanitisers – digitally-controlled for maximum efficiency – keep the most germ-filled areas of your washroom clean, sanitised, and fresh for an unconditionally pleasant washroom experience.
Digitally-released sanitiser wipes out germs and bacteria 24/7
Prevents uric acid build-up, keeping your urinals spotless and shiny
Can be mounted internally or externally depending on your setup
Micro-doses (0.1ml) released for affordable, long-lasting cleanliness
Our sanitisers don't simply contribute to a pleasant washroom environment. They're the frontline of defence for the safety of your workplace. You don't want to settle for second-best when it comes to the wellbeing of your customers and employees. Neither do we. We'll fit, maintain and refill high-power sanitisers at no added cost, keeping your business's washrooms safe and spotless – always.