Feminine Hygiene
Get Sanitary Bins For Your Female Employees
Fresh & Clean provides female employees with a washroom hygiene service that is designed to give complete hygienic peace of mind. Based on feedback from women, our discreet sanitary bin has a lift-flap mechanism, which requires minimal contact for maximum hygiene. The sleek, smart bin fits into the smallest cubicle. The anti-bacterial liner in the bin kills 99.999% of germs.
For environments such as shopping centres, nursing homes, childcare centres and offices, Fresh & Clean offers the same hygiene and safety in its nappy disposal bin service.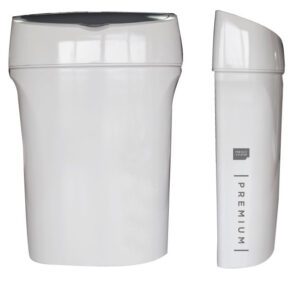 Premium Feminine Hygiene Unit
DESIGNED BY WOMEN, FOR WOMEN
We have just introduced our new Premium branded and styled feminine hygiene unit. The discrete new design combines a modern silhouette with a fresh new on trend colour. Its sleek modern look has been designed by women for women, to significantly improve the look and feel of your business bathroom. It features an easy to use dark platinum lid and smart simple Premium branding on a super fresh white body. Not only are we launching this sleek new product, we're introducing the new ICS (in cubicle servicing) program, so there will be no more sanitary bins being carried through your business and no bumped and scraped looking units in your bathrooms. It's the newest, most hygienic and environmentally friendly way to keep your bathroom super clean, fresh and looking great.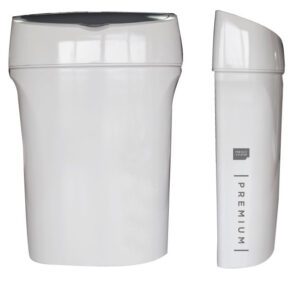 Nappy Units
Hygienic and discreet nappy disposal service. Easy disposal mechanism. At the time of the service, the entire bin is replaced thereby minimising chances of germ transfer.
High-quality nappy waste disposal system
Nappy disposal bin removed and replaced
Managed service to save you time and money