Hand Hygiene
We will take care of your hand care
Stopping the spread of illness in the workplace through proper hand hygiene doesn't just stop at the washrooms. Wherever there's a need to wash your hands such as professional kitchens in restaurants, general office kitchens, and entry and exit points in a warehouse or workshop, Fresh & Clean can offer an individual hand care program to suit.
From wall mounted soap dispenser units, hand drying solutions to surface sanitisers for areas like boardroom tables and reception desks,
Fresh & Clean can handle it all for you.
Need a hand sanitiser dispenser? Or a hand soap dispenser?
Maybe an automatic soap dispenser? The Fresh & Clean service
with supplies and refills is convenient,hassle-free and
cost-effective for your workplace.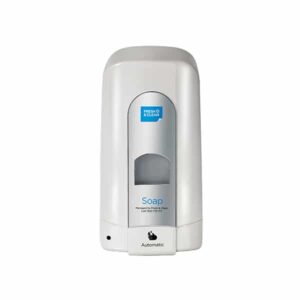 Hand Soap Dispensers
The stylish yet functional hand soap dispensers from Fresh & Clean are a part of our contemporary range of washroom products, in a choice of either manual or automatic. Refills are available in a wide variety of liquid, foam and spray options with anti-bacterial and hypoallergenic varieties available too.
Manual or automatic wall mounted dispensers
Choice of anti-bacterial and hypoallergenic soaps
Choice of liquid, foam or spray soap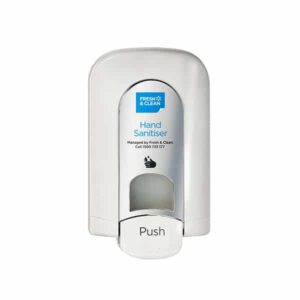 Instant Hand Sanitisers
Smart hand sanitising dispensers are available in manual and automatic options. These can be either wall mounted or stand-alone and can be easily placed anywhere where required. A
metered dose
of our superior quality disinfecting solution, with an added moisturiser, is delivered each time. The sanitiser kills 99.9% of germs leaving your hands clean and soft.
Wall mounted or stand alone units
Manual or automatic dispensers to suit your needs
Waterless, environmentally-safe and gentle on hands
Delivers metered dose with safe automated spray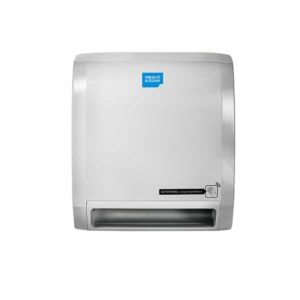 Hand Drying - Paper Towel Dispenser
Soft, absorbent, unscented towel options for a quick, pleasant and safe on sensitive skin hand drying experience. Paper towels are often considered a hygienic and cost effective hand drying system. Select from interleaf or roll-towel options.
Ideal for washrooms, kitchens and offices for drying hands, mopping spills or cleaning. These quality paper towels are great for high traffic environments in industrial and office areas.
Suitable for industrial workplaces
Range of interleaf, roll-towel and hands-free options available
Hands-free dispenser reduces the spread of bacteria
Choice of environmentally-friendly paper options
Hand Drying - Air
The Fresh & Clean High Speed Mini Hand Dryer is ideal for bathrooms, kitchens, and other public places. Energy saving with 95% savings versus paper towel consumption.
Durable, touch-free, eco-friendly, sleek and modern looking
Hot and Cool wind option
Automatic cut-off after 60 seconds for heat protection
Dries your hands in 10-15 seconds
Durable, high impact, fireproof ABS plastic housing